Eco School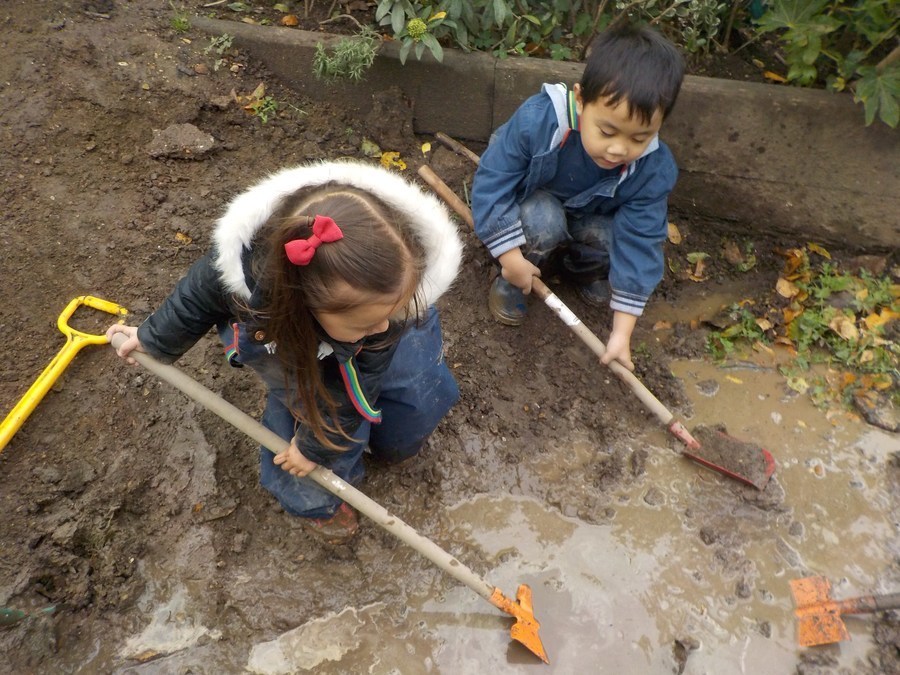 Throughout the last few years we have developed our commitment to the Eco school project. We were delighted to be awarded the silver award in 2013; 'For our achievement in a sustainable lifestyle' and we were awarded the green flag in 2018.
The Eco committee consist of staff and parents who are instrumental in developing various projects. The committee meet up once every half term to discuss any issues regarding the environmental review, come up with an action plan and track the progress of gaining the Green Flag Award.
We have set up a small recycling station within the reception area to allow the community to recycle:
Ink Cartridges & Toners
Mobile Phones
Batteries (please make sure they are not leaking)
The nursery also has solar panels on the roof allowing us to generate power to heat our water and put back in to the grid what we don't use.
Summer 2018
Happy Shoes Day
We are taking part in Happy Shoes Day on Friday 18th May. We will be joining thousands of children across the UK lacing and racing out the door to school as part of walk to school week. Pupils, teachers and parents across the country wear shoes that make them happiest on their walk to school and make a suggested donation of £1 to living streets, a charity for everyday walking.
Second Hand Clothes Collection
In partnership with bag2school, we will be collecting 2nd hand clothes on the morning of Friday 15th June and bags will be sent home the week before. We are aiming to collect 25 bags.
Ella Cycle Recycling Programme
We are working with Terra Cycle to collect any brand of baby pouches and Ella snack wrappers for recycling. Please wash them out and recycle in the box in reception.
Click here for the Summer term 1 Eco newsletter
Click here for the Summer term 2 Eco newsletter
Spring 2018
Second Hand Clothes Collection
We organised a second hand clothes collection for reuse in partnership with bag2school. Bag2school helps to promote reuse of clothes and shoes to benefit those who rely on 2nd hand clothes as their sole option for good quality items. Bag2school collects and sell unwanted textiles to importers and wholesalers in many countries of Eastern and Western Europe, Africa and Asia. All to benefit the Circular Economy.
Say No to Plastic Bags
Recently, we hosted a plastic oceans week from the 29th of January to the 2nd of February 2018 to raise awareness of plastic waste in the ocean. At Bayonne, we recently replaced our use of plastic bags to biodegradable plastic bags.
School Travel Plan
One day in December an audit (count) of how all the children and staff travel to school was taken. The aim is to reduce carbon emissions and to improve our overall wellbeing by leaving the car or pushchair at home and walking or cycling to school.
Grow Your Own Potatoes
We are registered with the Potato Council of Britain to join in their country wide growing competition for schools. Soon we will be putting the seed potatoes in to the dark to encourage them to start growing their new shoots. This is called Chitting, the children will be telling you all about it!
Waste Week
For one week in March the children will be helping to monitor our project in Waste Week. The initiative encourages schools to focus on one area of waste reduction. This year we will be looking at weighing and recording how much food waste we produce. The school community will then discuss the results and see what actions are required.
Previous projects
We have been involved in a wide range of recycling projects- within the classroom, children collect compost, tending the small garden allotment,
Groups of children and staff have been to visit the Wandsworth Recycling Centre. There is a "Bug Hotel" and a wormery in the Bayonne garden.
We have recently organised an extensive recycling programme and we raised over £262 for a charity www.pencilsforall.org that was created and run by one of our members of staff Iwona Macalka. This was through collecting old clothes from staff and families from the local sheltered housing next to the nursery and groups for the elderly held at our local community centre. Once collected they were weighed and exchanged per kilo for money.
"Don't throw. Make something new!"
In September 2013 a new recycling campaign was created called "Don't Throw. Make Something New". It incorporated recycling and creativity. The children unwound the old jumpers and used the wool for knitting.
Waste Week Project
Bayonne children took part in 'Keep Britain Tidy Waste Week' project. Plastic waste was collected for a week and then children helped to sort it into piles for Recycling, Reusing and Rubbish.