School Council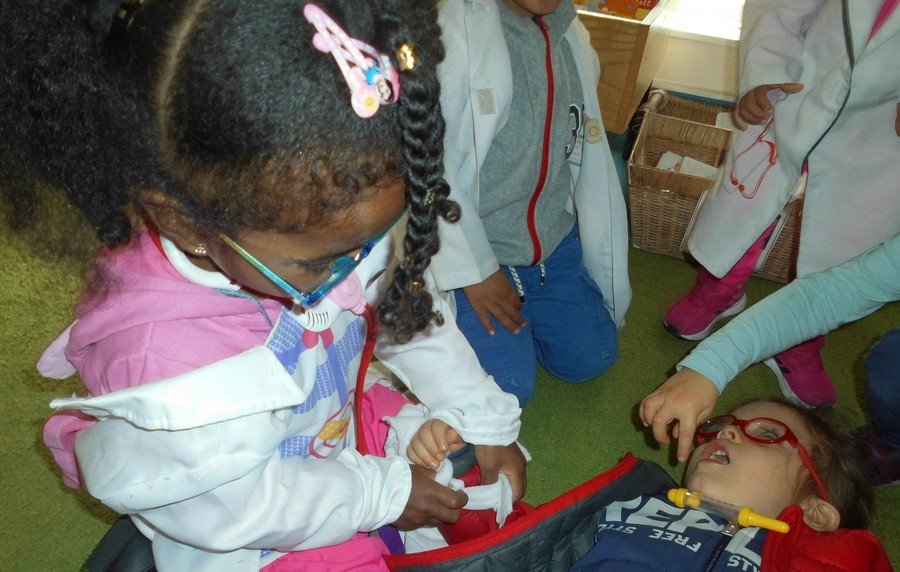 Here at Bayonne, we have a School Council that meets every term. It is made up of six children, one child from each key group. We feel that it is important for the children to have a voice and we will often talk about things that are important to them. It is vitally important that the children have a role to play and that as adults we listen and value their voice. It is a great way for them to let adults know their feelings and opinions on certain topics. The children play an active part in making their school a better place.
The topics discussed may include:
Recycling.
How we can help and support the new children.
What makes us feel sad or happy. What could we do if a child is feeling sad?
How do we feel about moving on to big school?
Summer 2018
Tell me about your new primary school?
Yusuf - "Um, I'm going to eat sandwiches. I'm going to my brothers school"
Nylan - "I'm going to school. My uncles school. In the playground he plays football. Chips and chicken nuggets, egg and gingerbread bread. My numbers"
Kaysha - "Its so awesome. play with all my big friends"
Malachi - "I'm going to my cousins school. There's no toys there. My school uniform"
Scarlett - "Have cookies. Blue and red clothes. Play games and fairies. I want to play with my friends"
Janelle - "I'm going to my brothers school and I play with my friends"
Spring 2018
How can we make the new children feel happy and welcome?
Clara

-"Share toys and we can make friends by playing with each other. Show them where things are like the swing, it would make them happy".

Alexander

- "Be kind to them, sharing the big red fire engine and doctors. If they cried for their mummy say, we have a little play outside, story then home time its ok"

Talvin

- "We can play diggers and aeroplanes with them and share toys"

Janelle

- "Make a drawing for them and painting"

Chloe

- "Help them to tidy, show where toys go"

Adan

- "Read books with them and stories"
Previously we discussed - the new chicks in the nursery and how we could help look after them?
"I didn't see a real chick before."
"The eggs will come with numbers on them."
"We put them in a cage and we look at them and we don't touch them and we don't drop them or people might step on them!"
"Do you know one day my sister had chicks at her school."
"When we have the baby chicks we need to hold them carefully and not let them drop."
"You put them in the big glass thing and then so if someone tries to put water on them it won't go in."
"The chicks need a drink and a wash!"
"If someone bangs on the box we'll just say STOP! Because they'll get died."
"If the chicks die, we can bury them and they might come alive again."
"Chicks like to eat chick food. It's brown and little."
"The chicks are tiny and they're yellow. I just want to hold one!"
"The chicks can't live here forever, they live in the farm."
Previously we discussed - what new opportunities the children would like to have at the nursery?
"I would like to have levers…it might control the digger. We could swap the bikes for the diggers and have remote control cars".
"Sparkly lights than shine up at nursery, have them high so children don't pull them down because sometimes it's dark. What about a real bridge, you could climb up and slide down on your bottom."
"Make cupcakes and have some balloons as well and bubble mixture."
"I have a really good thing! If you put a rocket car outside and then tied the string with the balloon it would go high in the sky."
"A new swing, a big swing."
"And one for the grown ups!"
"A toy dinosaur, so big in the sky."

"A movie place, we can make shows and movies just like Anni."
At the previous meeting we discussed how they felt about about going to their new schools after Summer holidays.
What School are you going to?
"Tomorrow I go to Russian school"
"St Augustines with my brother, my friends, but I will feel sad cause some of my friends are not going to my new school"
"I feel happy I'm going to St Augustines cos my big brother goes there"
What will you miss playing at Bayonne?
"The swing and climbing, my sister is staying at nursery"
"Good, I'm excited going to my new school"
"There is no play and stuff at my new school"
"It is a bit boring at a big school, cause you have to do work, writing and loads of homework"
What's homework?
It's when you work at home: letters, reading, numbers, and you have to get new clothes"
What sort of clothes?
"You have to get new uniform"
"Black trousers, blue jumper"